In our fast-paced modern world filled with crowded cities and increasingly impersonal experiences, there's something special about experiencing the charms of small-town America. No towns are more charming than historic downtown Exeter, NH. Whether you're visiting a student at the Phillips Exeter Academy or just looking for a quiet getaway on the gorgeous Seacoast of New Hampshire, you'll love the friendly, charming vibe of downtown Exeter, NH.
There are plenty of things to do in Exeter and the surrounding Seacoast no matter the season, so much so that the area deserves at least a few days of your time. While enjoying the best this area offers, make our #1-rated boutique hotel, the Inn by the Bandstand, your home away from home.
Our Exeter, NH, hotel offers exquisite accommodations, exceptional hospitality, and two of the finest restaurants in town. It's truly a destination in itself. From here, you can easily walk to the top attractions in downtown Exeter, NH, and enjoy a restful and quiet winter retreat on the Seacoast. It doesn't get much better than that! Book a room at our #1-rated Boutique Hotel in downtown Exeter, NH today!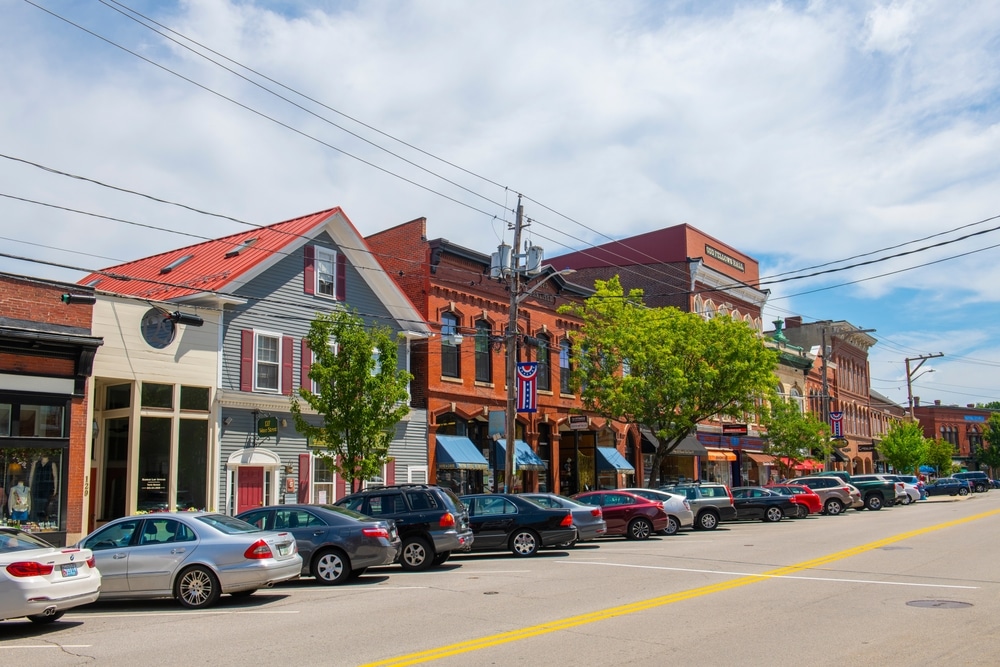 The Best Things to do in Downtown Exeter, NH
Downtown Exeter, NH sits on the banks of the beautiful Squamscott River and is part of New Hampshire's famed Seacoast region – an 18-mile stretch of coastline filled with charming small towns, incredible natural beauty, and a variety of fun things to do. It's also an easy escape for many on the east coast, as it's only an hour outside Boston and easily reached by the Amtrak Downeaster commenter train.
Many things make downtown Exeter, NH a special place to visit, but it starts with the town's rich heritage and preserved history. Just walking through downtown will give you a chance to marvel at the gorgeous historic architecture that has been so well preserved here. A few famous landmark buildings include Exeter Town Hall, the Phillips Exeter Academy, the Gilman Garrison House on Water Street, and the historic Bandstand across the street from our hotel, not to mention the Inn by the Bandstand hotel itself!
For even more history, stop by the American Independence Museum. It's housed in the Ladd-Gilman House, a National Historic Landmark. It houses an original copy of the Declaration of Independence, thousands of items from the American Revolution, and more.
As you stroll, take the time to pop into the many charming boutiques in downtown Exeter, NH. With so many unique stores and great finds, it's the perfect place to start or finish your holiday shopping this season! Stores we highly recommend you visit include Whirlygigs Toy Shop, rated as the best toy store in New England, Water Street Bookstore, the largest independent bookstore on the Seacoast, as well as our friends at The Colophon Book Shop, and The Chocolatier, where you're sure to find delicious treats to take home with you (or eat now).
It doesn't matter the season – walking along the gorgeous Swasey Parkway is always a wonderful thing to do when you're in downtown Exeter, NH. It's peaceful and beautiful and offers excellent views of the town. You can also stretch your legs on the Phillips Exeter Trails, which offer marked trails for walking, hiking, and biking – and even snowshoeing and cross-country skiing in the winter.
Finally, when it's time to end your day in downtown Exeter, NH, don't miss a meal at the best restaurants in Exeter, NH – two of which just so happen to be co-located on the same grounds as our boutique hotel in Exeter, NH.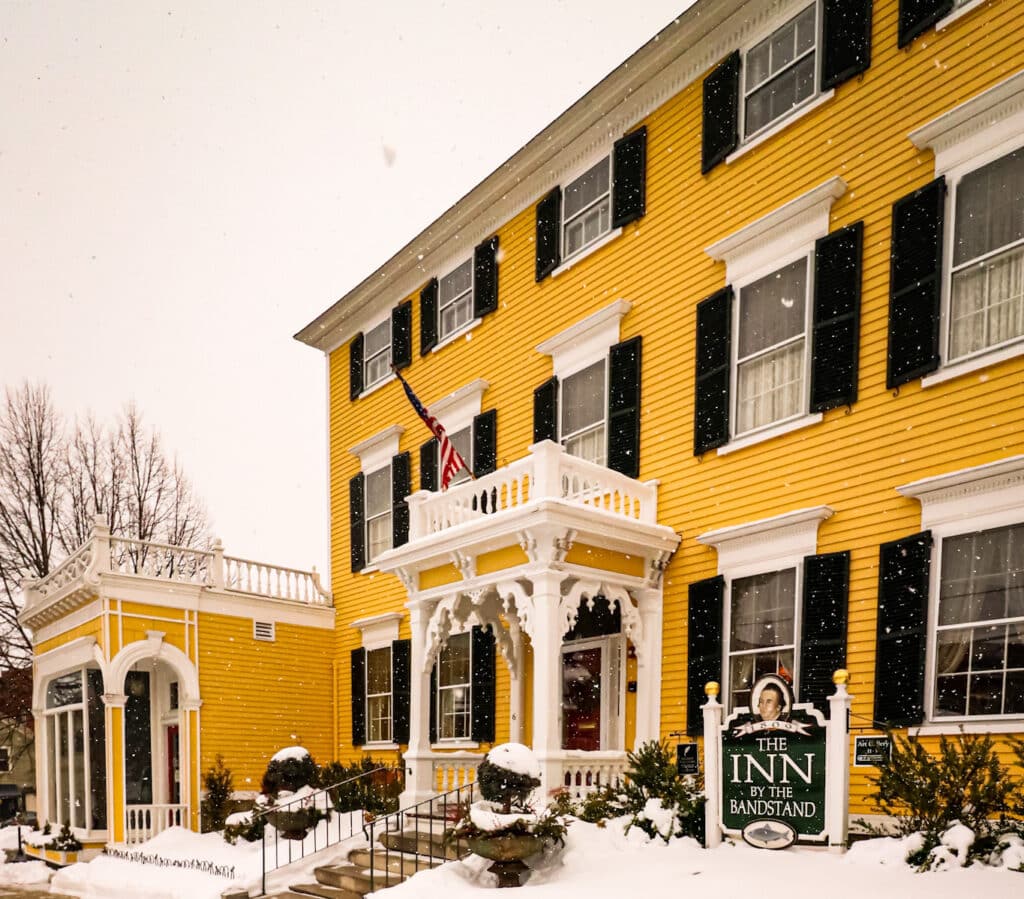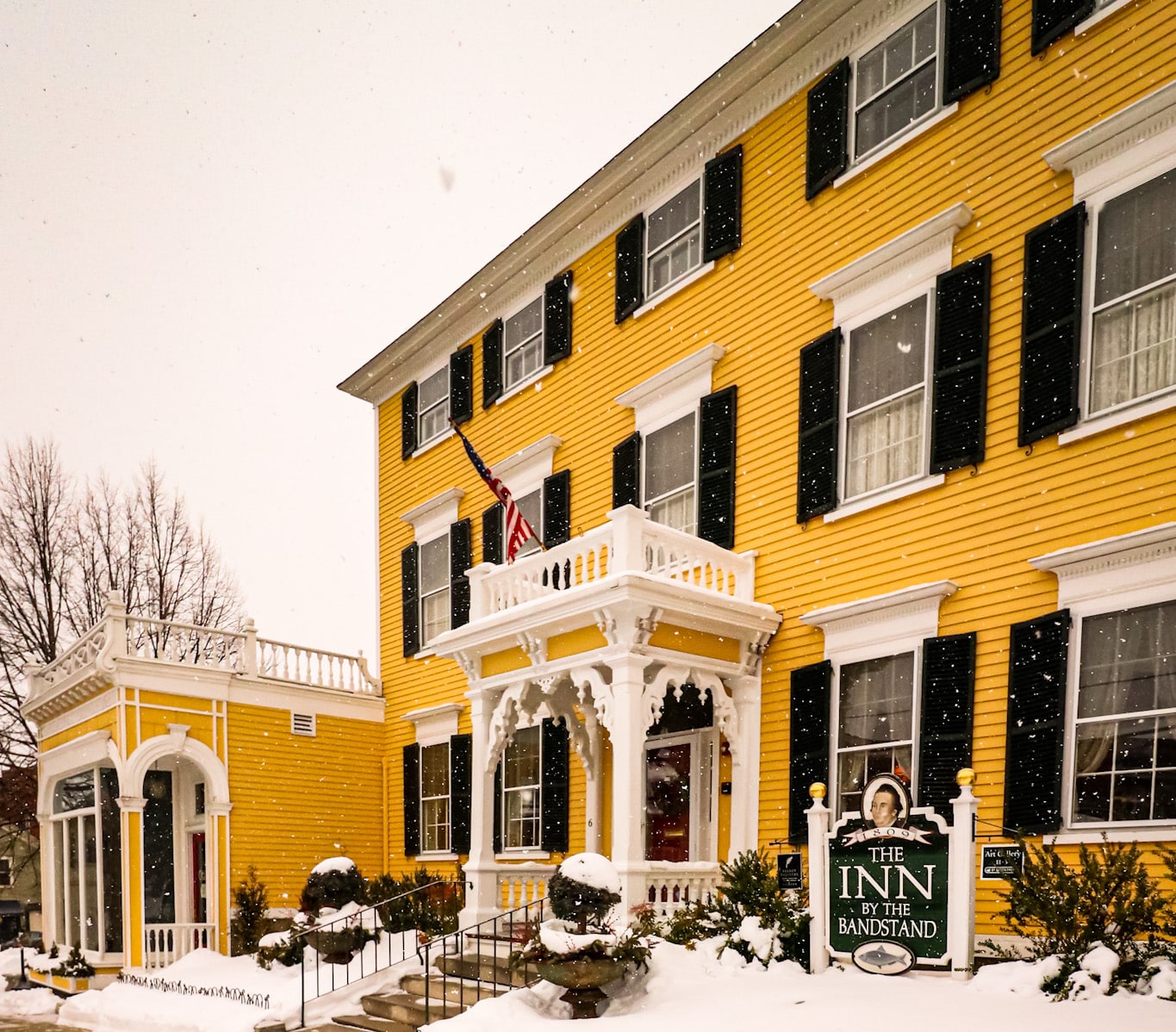 A Winter Retreat at our Exeter, NH Hotel
After a full day of exploring this beautiful and charming town, retreat to the comfortable and luxurious accommodations at our downtown Exeter, NH hotel. The Inn by the Bandstand is unmatched in hospitality, attention to detail, and excellence. The guest experience here is exceptional, and with access to the best restaurants in Exeter, NH, you'll be hard-pressed to find a lodging experience anywhere on the Seacoast that compares.
Our Exeter, NH hotel offers a variety of guest rooms and suites, each uniquely appointed with a range of fine furnishings, antiques, fine art, and high-end amenities. We're the only AAA four-diamond property on the Seacoast, and you'll see and feel the difference this makes from the moment you arrive at our historic Inn. Add even more indulgence and pampering to your stay with one of our curated packages.
In the morning, join us in the Ambrose restaurant for an unforgettable a la carte breakfast that is a feast for your senses and provides the perfect fuel for another fun day on the Seacoast. If you're looking for the best getaway of the season, you've found it. Book your room at our downtown Exeter, NH hotel today!